Tip #1
Candidates are not always who they appear to be! Some people are great at interviews and have the ability to hide who they really are. A thorough, professional background check can really shed light on your candidate's character.
Tip #2
How do you determine which screens you need? Evaluate the tasks your employees do. For example, if your employees drive company vehicles, you will need DMV screen. If they need specific professional licenses, certifications or education – those will all need to be checked. Some background screens are general and useful for all employees, such as Social Security verification, Nationwide and County Criminal checks. Your Account Manager can help you decide what makes sense for your company. Don't forget to periodically reevaluate if there have been changes to your company.
Tip #3
Make sure your candidate has a great experience during the vetting process. One of the top reasons companies lose candidates is their screening timeline is too long and they do not stay in communication with their candidate during the process.
When looking for ways to cut expenses, many businesses look first to their vendor invoices. Which services can be brought in-house, postponed or maybe even eliminated? It is especially tempting to DIY if you think you can save time as well as money. READ MORE
Habits: The Good, the Bad and Conflict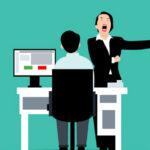 We all form habits and thank goodness we do. Otherwise, our brains would be hyper-exhausted! Habits help us move through our day without making a huge volume of conscious decisions about things that we have done multiple times already with good, or at least acceptable, results. Obviously, good habits are better because they guide us to do the things that are safest, healthiest and in our best interests. READ MORE
Quietly Quitting or Strategic Engagement?
If you follow TikTok, you have probably already been hearing about quiet quitting for awhile. This trend ranges from setting boundaries at work to make sure you are not going too far above and beyond what you are paid for and continues to out-and-out passive-aggressive behavior that is doing just enough work to not get fired. All while continuing to collect your paycheck, of course! READ MORE